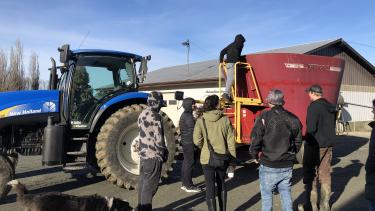 Classroom Reflection
April 11, 2023
When asked to reflect on a classroom, most of us will envision rows of desks facing a blackboard where a teacher stands. For decades, this image has represented the learning space for millions of students and yet excludes how we learn naturally and daily in non-school environments. True knowing and understanding mean being able to transfer knowledge from one setting to another. This requires a varied approach to teaching and learning, ultimately creating the opportunity for our students to explore their passions. We use the First People's Principles of Learning to guide the experience at Bakerview. Several of the First People's Principles of learning are better attended to in a place-based learning environment, such as:
Learning ultimately supports the well-being of the self, the family, the community, the land, the spirits, and the ancestors.
Learning is holistic, reflexive, reflective, experiential, and relational (focused on connectedness, reciprocal relationships, and a sense of place).
Learning is embedded in memory, history, and story.
Learning requires exploration of one's identity.
Bakerview Centre for Learning's Lets'emo:t program has created a schedule that extends learning into a multitude of alternate settings on a regular basis, amplifying knowledge into learning experiences. Our grade 11/12 pod continues to co-construct collaborative place-based learning opportunities which integrate learning on the land.  Mother Nature is a majestic backdrop to learn while simultaneously attending to mind and body wellness. This holistic approach not only brings symmetry to education, it also drives an organic emergence that social, emotional and physical well-being are instrumental to successful academic pursuits. When we put the students at the centre of their learning and expose them to interactive experiences in natural landscapes, they have an opportunity to explore identity and find community. A place to find yourself and find your community defines what we do at Bakerview Centre for Learning. We are, and always have been, a positive, respectful and unique community of learners.
JACQUELINE HALL, PRINCIPAL
Bakerview Centre for Learning