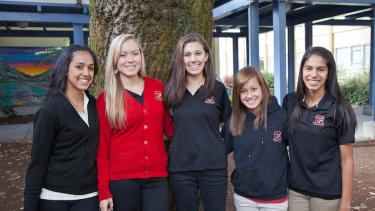 Adhering to the Student Dress Code is one of the defining characteristics of the Traditional School Model. We believe promoting the use of the student uniform is important for the following reasons:
ATSS has high academic expectations; students are expected to work with maximum effort. Dressing daily in the school uniform is symbolic of our commitment to a professional learning environment.
Students deserve to have a learning environment where others judge them by the content of their character, their ideas and their actions, not by what they wear.
Wearing school-crested clothing fosters a sense of belonging and builds pride in and for our community.
Dress Code Guidelines:
Dress code is mandatory for all students.
All tops must bear the school crest and be school colours (red, black, or beige); several colours and styles are available.
Formal slacks (black or beige) are to be worn by students. They must be made from appropriate materials (no sweat pants, jeans, cargo pants, stretch pants, or tear away pants).
Students are expected to wear the dress code in an appropriate manner and with pride. Clothes must be clean and in good repair.
Student may not combine uniforms with non-dress code items that change the uniforms overall appearance in colour (black, beige & red) or material.
Non-branded exterior wear is not permitted, nor are hats. Please remove these items at the door.
Gym Strip is not to be worn in classes other than P.E. No crested sweat pants in class.
All shorts and skirts must be knee length and shirts must cover mid sections.
Students involved in a school-sponsored events or excursion off campus must adhere to the school dress code.
The Abbotsford Traditional Secondary dress code is available through our supplier:
ABLE CRESTING
102-31281 Wheel Ave, Abbotsford, BC V2T 6H1
Phone: 604-864-9728
Fax: 604-864-9090
Cell: 604-308-5401